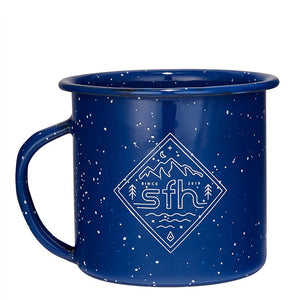 The enamel coated, stainless steel mugs are durable and lightweight, perfect for camping, hiking and exploring. Lightweight and durable, this mug is perfect for outdoor use when camping, hiking or adventuring. With our adventure camping mug, you get a high-quality option for your on the go travel drinking needs. The appearance calls to mind time gathered around a campfire with a nostalgic appeal. It is attractive in its appearance with a blue speckled design and bold graphics. Best of all, it is rust resistant and dishwater safe for ease of care. The handle is curved and has no sharp edges to ensure a comfortable grip with every sip. When you need an option for drinkware that speaks to your adventurous side, this is the mug for your next journey.
Enameled steel mug
12oz
Durable
Rust resistant
Dishwasher safe
Available in blue speckled
If you have any questions while shopping with us in regard to any of the products we feature, please contact us for further assistance. We are happy to assist you in any way!